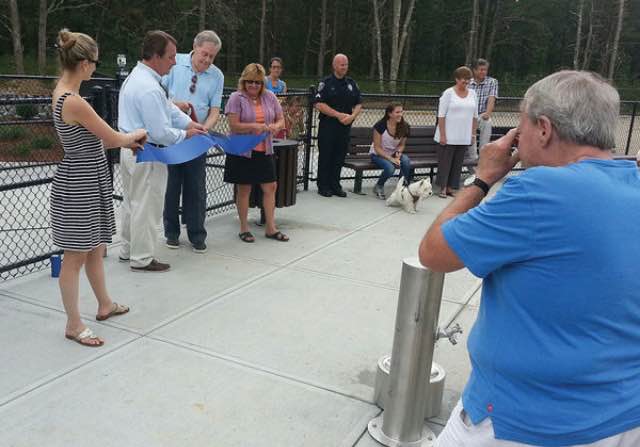 Selectman John J. Cahalane snips through the ribbon with some oversized scissors as Lindsey Oliver, Friends of Mashpee Dog Park president Tom Fox and Theresa Cook watch.
SAM HOUGHTON/ENTERPRISE
"Release the hounds," assistant town manager Thomas J. Mayo announced as the ribbon was cut and the Mashpee Dog Park, after seven years of planning, officially opened.
"After seven years, there were many times when we did not think this day would come," said Geoffrey P. Spillane, vice president of the Friends of Mashpee Dog Park. "The day has finally come," Mr. Spillane said after thanking Mashpee Department of Public Works director Catherine E. Laurent, town manager Joyce M. Mason, and other Mashpee officials and selectmen."
Selectman John J. Cahalane, with a pair of oversized scissors, snipped the ribbon Wednesday morning, July 15, as the dogs took to the park with tails wagging.
[Read the full story Dogs Rejoice For New Park on capenews.net]